The 8NCREDIBLE Story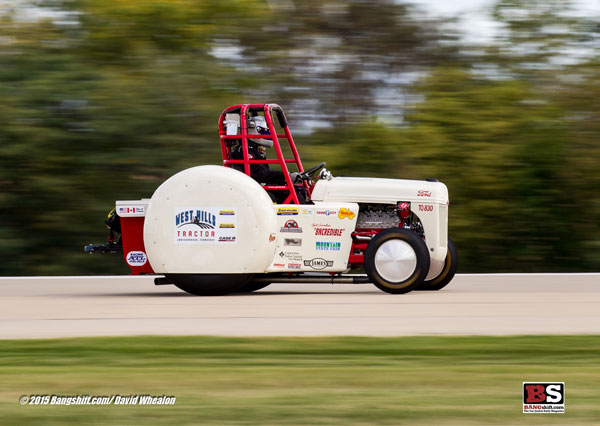 Jack Donohue's dairy farming background is the probable reason he decided to build a race a farm tractor after his retirement from NASCAR competition.
Jack Donohue's 101+ mph World Land Speed Record tractor, the 8NCREDIBLE, was built from a 1952 Ford 8N farm tractor that was originally designed for a top speed of approximately 12-14 mph.
8N Fords were designed by Henry Ford's tractor designer, engineer and friend of Jack Donohue, Harold Brock. They were produced from late 1947 to 1952. Amazingly, more than 500,000 8N Ford tractors were manufactured during that time period.
From 1950 to 1952, an 8N Ford tractor was available with a 100 horsepower 239 cubic inch flathead ford V8 engine as an optional add-on by Ford tractor dealers. The V8 dealer option was called a "Funk Conversion Kit" that was built by the Funk Brothers with Funk Aircraft Company in Coffeyville, KS. Another close friend of Donohue's, Delbert Heusinkvelt of Sioux Center, Iowa, is credited with installing the first Ford flathead V8 engine in an 8N tractor and convincing the Funk brothers to manufacture their now-famous V8 Funk Conversion Kit. Until that time, Funk was manufacturing conversion kits for Ford six cylinder engines only.
Because farm tractor tires were never are not designed for high speeds, the rear tires on the 8NCREDIBLE are aircraft tires with a built-in high speed rating. The front tires are land speed racing tires. Both manufactured by the Goodyear Tire and Rubber Company.
The engine in the 8NCREDIBLE is based on a larger version of the Ford Flathead V8, a flathead V8 called a V8 – MA 255 cubic inch 125 horsepower engine built for Mercury cars and Ford trucks. Of course, our engine builder John Herring has this engine putting out at least twice that horsepower and more.
The 8NCREDIBLE is the only tractor in the world officially sanctioned and approved to compete in World Land Speed Record events by the SCTA (Southern California Timing Association). Land speed events are conducted at various sanctioned venues in the United States, primarily The Bonneville Salt Flats in Wendover, UT, approximately 120 miles west of Salt Lake City.
The 8NCREDIBLE was built by Jack Donohue to challenge a tractor record set in 1935 on the Bonneville Salt Flats by renowned Land Speed driver Ab Jenkins. The Jenkins record of 67.677 mph had gone unchallenged for more than 80 years!
8NCREDIBLE Records
When the 8NCREDIBLE was completed and ready for its first speed run in 2015, the annual August Bonneville Speedweek event in Utah was cancelled due to inclement weather. Undeterred, Donohue and crew loaded up in September 2015 and headed to a Land Speed event held annually at the "Ohio Mile" located in Wilmington, OH, an East Coast Timing Association sanctioned event. ECTA is an associate of California's SCTA .
Official ETCA - 8NCREDIBLE top speed on Sept. 25, 2015: 96.3185 mph (world record)
The race driver side of Jack Donohue was revealed after the event , when he stated he wasn't happy about not exceeding the 100 mile per hour mark , so the 8NCREDIBLE was returned to the Ohio Mile in 2016 to try again . . . .
Official ETCA - 8NCREDIBLE top speed on June 17, 2016: 101.1691 mph (world record)
Jack Donohue has high praise for his crew and credits the success of the 8NCREDIBLE to their hard work and dedication .
8NCREDIBLE CREW (in alphabetical order)
Grayson Donohue Machinist - mechanic
John Herring Crew Chief – Engine builder – race day crew
Will Herring Mechanic – Drive Line Specialist - race day crew
Barry Lowe Welder-fabricator-powder coater – race day crew
Mark Mathis Body Paint – race day crew
Richard Turnbull Mechanic – Tire Specialist - race day crew
Brad Williamson Mechanic - race day crew
A Special Remembrance
RIP - Jim Turnbull. He was a mechanic, welder, fabricator, machinist, engine/transmission specialist, farmer and tractor puller. Jim Turnbull is credited along with John Herring with suggesting to Jack Donohue that a tractor run at Bonneville. Jim is also credited with coming up with the 8NCREDIBLE name.